---
Blogs
Importance of fire protection in commercial kitchens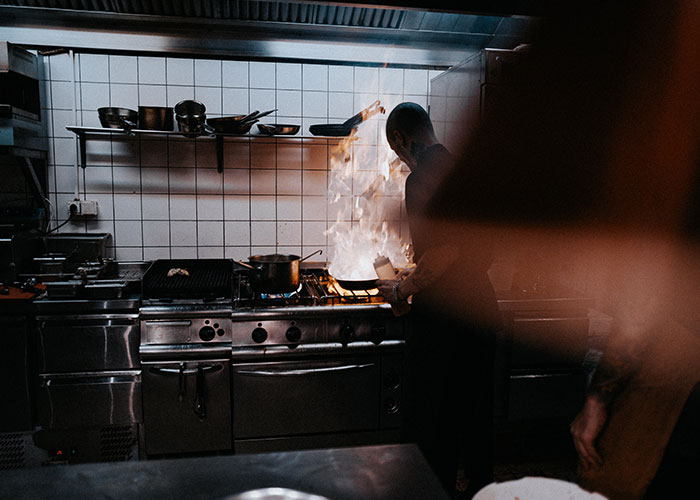 Importance of fire protection in commercial kitchens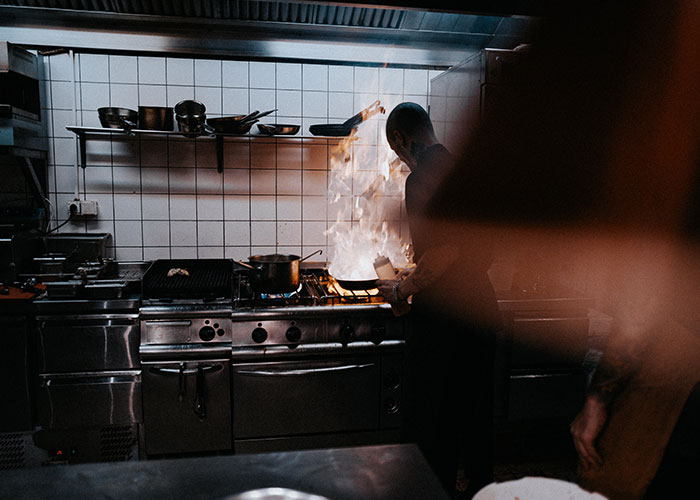 Besides restaurants, commercial kitchens can be found in a variety of facilities. The kitchen is considered a commercial kitchen when it is equipped with equipment such as lubricants and steam generators. These kitchen utensils may include flat pieces and charcoal. Commercial kitchen fires are a major threat due to the presence of grease. It is important to understand the tools and safety measures that can be taken for ensuing Fire safety in commercial kitchens.
WHY IS FIRE PROTECTION FOR COMMERCIAL KITCHENS IMPORTANT?
Oils, greases, and lubricants are all flammable products that are readily available during cooking, causing thousands of fires in companies and millions of injuries every year. This has often resulted in injury, loss of life, damage to the expensive kitchen equipment, or interruption of kitchen work. Introducing an effective commercial kitchen Fire Extinguisher is one of the most important aspects of a restaurant or commercial kitchen. A commercial kitchen should include a fire extinguisher, chemical fire extinguisher, and some Class K fire extinguishers.
By combining these, you can respond quickly before a fire breaks out in a commercial kitchen.
INSTALLING A KITCHEN FIRE SUPPRESSION SYSTEM
Unless there is an effective fire suppression system, commercial kitchen fires can get out of control quickly. Keep in mind that kitchens are used in a variety of buildings, such as restaurants, hotels, and event venues. Fires are often quickly extinguished before disrupting work throughout the kitchen.
Wet chemical fire suppression systems are commonly used in commercial kitchens and require UL300 to comply with them. These suppression systems douse fires by combining oxygen depletion with water-based cooling.
The chemicals react with the fats and contain alkaline substances that make the soap. This process is called saponification. By blocking the arrival of oxygen, a layer of foam is formed on the burnt fats and oil. Some common medications are potassium acetate, potassium carbonate, and potassium citrate. The fire suppression systems also contain water that cools fats and oils under low heat.
The kitchen Fire Prevention systems are connected to both the appliance and the gas supply line. When the system is active, the gas supply is cut off, and chemicals are released. It is very dangerous to burn fats and oils because they are released near the fuel. Then use the hood to remove smoke and put out the flames.
HOW OFTEN SHOULD MY KITCHEN HOOD BE CLEANED AND INSPECTED?
Hygiene and proper housekeeping can significantly reduce the risk of a fire in a commercial kitchen. According to data, 22% of annual fires in commercial kitchens are caused by poor sanitation.
Clean the kitchen regularly: This is one of the simplest and most important practices that you can apply in your kitchen. The accumulated fat can be burned in a jiffy, and there is a fire risk that can be prevented with proper housekeeping. Workers should regularly clean grease from walls, workplaces, stoves, refrigerators, poultry, bar, conference ovens, and any ventilation holes and filters. Grease traps should also be cleaned regularly to prevent overheating and reduce the risk of fire. Use a daily, weekly, and monthly checklist to make sure your cleaning is complete.
Print and publish an information chart to remind your employees of other best practices about good housekeeping and how to help prevent a fire.
WHAT CAN I DO TO PREVENT A KITCHEN FIRE?
Obviously, preventive maintenance plays an important role in kitchen fire safety. Below is a description of best fire safety practices related to preventive maintenance in Kitchen appliances, chimneys, Fire, and safety equipment and systems.
Maintenance of kitchen appliances and exhaust systems
All electrical equipment must be checked and repaired regularly to facilitate timely 

Fire Detection

. The test should include detection of light bulbs and electrical hazards, such as damaged cables or wires. It is also important to ensure that the exit switchboard is not cracked or broken. This is because the keyboard detects wires and collects dust and grease, which can lead to short circuits and fires. 

Given the complexity of today's kitchen equipment, it is recommended that a trained professional do the maintenance and repair work. Do not attempt to repair malfunctioning equipment or appliances yourself.

Avoid deep-frying. It is important to keep the flame source at least 16 inches apart or install a vertical baffle at least 8 inches above the top of the plant. Both options help prevent hot oil spills and ignition in an open flame. All deep-frying pots should also have a high-temperature range that automatically turns off power for fuel or cooking when oil exceeds 475 degrees Fahrenheit.

Another 

Fire Safety tip

 is to check and clean the kitchen drain system regularly to prevent grease build-up. This is not only a hygienic practice, but it is also a fire safety regulation. Regulations require to have a variety of inspection and cleaning programs (monthly, quarterly, annually, annually, or annually) for commercial cooking-based exhaust systems. If you do not know the schedule, you can call the course and inquire from a professional.
WHAT IS THE BEST TYPE OF FIRE EXTINGUISHER FOR A COMMERCIAL KITCHEN?
If you have a restaurant, you know in advance that you will need special Fire Extinguisher systems to protect your kitchen from fire. But did you know that you need a special type of fire extinguisher? The most common fires in commercial kitchens, such as grease fires, are known as Class K fires and require a special Class K fire extinguisher to remove them and prevent a recurrence.
EMPLOYEE PRECAUTIONARY MEASURES AND TRAINING
Depending on the fire safety and defense training level, personnel may increase the risk of a fire or be one of the best lines of Fire Protection. Their success depends mainly on the training they receive. Investing in personnel reduces the risk of fire and saves lives in the event of a fire in the kitchen.
Personnel in the cooking department who are involved in the use of direct fire make sure they are suitably armed and trained. Alcohol and propane are hazardous when used near the dining table. Mistakes can light up tablecloths, napkins, and in some cases, server and custom clothing.

All tools and equipment must be used according to the manufacturer's instructions.

Train employees how to quickly put out a fire in the kitchen or refrigerator. By teaching employees how to deal with small fires rapidly, the risk of those fires spiraling out of control can be greatly reduced. It is also important to note that keeping the nearest fire extinguisher is not always the correct response to an oil fire. A small oil fire can often be extinguished by covering the flame with a metal cap and turning off the heat source.

Make sure all employees know exactly how to use the fire extinguisher. You should also be aware that Class K fire extinguishers are only intended to be used after the kitchen fire extinguisher has been activated.

All employees must be trained in how to turn off gas and electricity in a 

Fire Emergency

, and every shift requires at least one employee to do so. If you use gas-fired appliances in your kitchen, it is important to know whether the shut-off valve is designed to operate automatically or requires manual operation.
---
Recents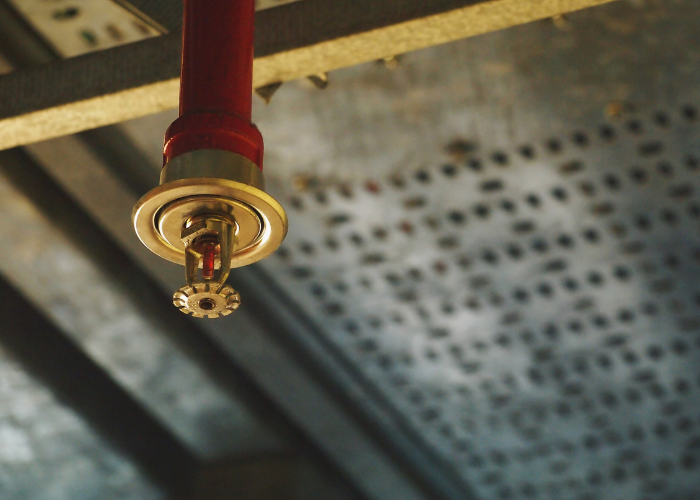 5 Fire Sprinkler Myths: Debunked